Georgia has no shortage of exciting activities for visitors. It provides a range of things you can enjoy such as world-famous attractions, historic sites, city parks for relaxation, the natural wonders, art museums and award-winning restaurants. Don't miss theses excitements that Georgia provides.
Attractions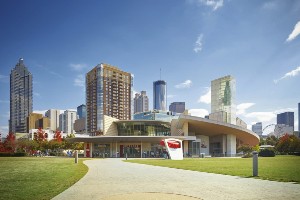 The World of Coca-Cola is a museum exhibiting history of the world's most famous soft drink at the dynamic, multimedia home of the 130-year-old secret formula for Coca-Cola. As one of Georgia's most iconic brands, Coca-Cola guarantees visitors diverse experience at the museum. Explore the vault containing the secret recipe, and see the fully functioning bottling line that produces a commemorative glass bottle of Coca-Cola for every guest. You will also taste more than 60 beverages from around the globe.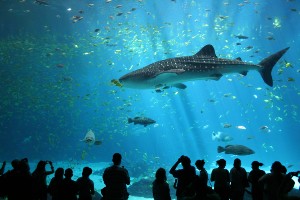 Georgia Aquarium features the most amazing aquatic animals, including beluga whales, whale sharks, manta rays, penguins, sea otters, dolphins and many more. As the world third largest aquarium, Georgia Aquarium offers seven permanent galleries with animals living in more than 10 million gallons of fresh and marine water. Georgia Aquarium also offers visitors the only opportunity in the world where you are guaranteed to dive with the giant creatures.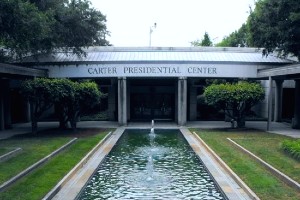 The Carter Presidential Library is one of 13 presidential libraries in the U.S. administered by the National Archives. The award-winning museum features 2-4 national traveling exhibits a year. The permanent exhibits highlight U.S. Former President Jimmy Carter's life and career. Guests can step into an exact replica of the Oval Office, experience a day in the life of the president, see exquisite state gifts, and take a virtual trip with the Carter Center on an interactive computer table. You will also see the Nobel Peace Prize awarded to President Carter's work after leaving the White House.
Historic Sites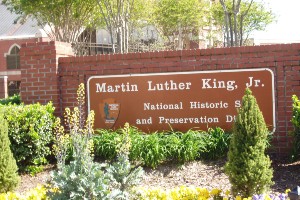 Martin Luther King, Jr. National Historical Park commemorates the area where Martin Luther King, Jr., civil rights movement leader, was born, lived, worshiped and is now buried. Dr. King grew up in a time of racial segregation and became a leader of the modern civil rights movement. Visit the King Center to hear his story, the home of his birth, and where he played as a child. Walk in his footsteps, and hear his voice in Historic Ebenezer Baptist Church where he moved hearts and minds. Marvel at how he was an instrument for social change in the United States.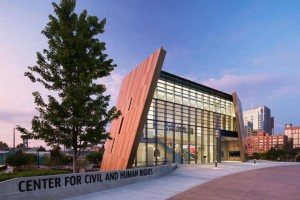 The Center for Civil and Human Rights in downtown Atlanta is an engaging cultural attraction that connects the American civil rights movement to today's global human rights movement. It is the center's vision to harness Atlanta's legacy of civil rights to strengthen the worldwide movement for human rights. Tour four immersive exhibit spaces, including The Morehouse College Martine Luther King, Jr. Collection, where visitors can view the personal papers and items to Dr. King. The Center's designated event spaces and educational programs inspire visitors to join the ongoing dialogue about contemporary movements for human rights around the world.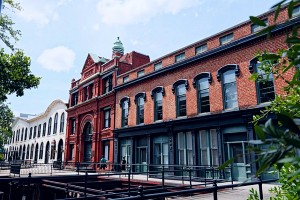 Savannah is Southern city located on Georgia's coast, approximately 4 hours from Atlanta. Settled in 1733, Savannah is one of the oldest cities in the U.S. and it was one of the first planned cities. Savannah Historic District is a large urban U.S. historic district with cobblestone streets, manicured gardens, and oak-shaded parks drizzling with silvery Spanish Moss. Stroll through park squares, and explore museums, monuments, and restored 18th-century homes.
City Parks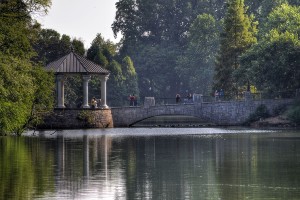 Explore the beauty of Piedmont Park, Atlanta's largest green space with more than 809,000m². It has walking trails, sports fields, a dog park and Lake Clara Meer. Walk or jog around the meadow. A number of pubs, cafes and restaurants can also be found within a very short walk along its bordering corridors.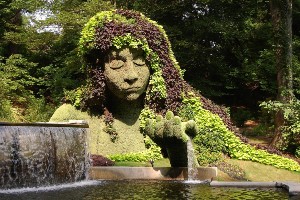 Renowned plant collection, beautiful displays, and spectacular exhibitions make the Atlanta Botanical Garden the loveliest place in town to visit. An urban oasis in Midtown, Atlanta, the Garden includes 121,405m² of outdoor gardens, a one-of-a-kind Canopy Walk through Stores Woods, and the innovative Edible Garden featuring an Outdoor Demonstration Kitchen. The Fuqua Orchid Center includes a High Elevation Orchid House and a Tropical Orchid House.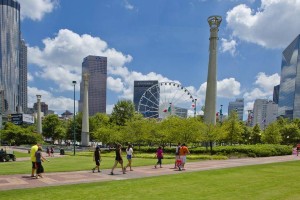 Centennial Olympic Park serves as a legacy of Atlanta 1996 Olympic Games. Centennial Olympic Park is perfect for a stroll to take in the sculptures, water gardens and lavish scenery. One of the most sophisticated fountains in the world, the Fountain of Rings is the world's largest interactive fountain to incorporate the Olympic Rings symbol. You can enjoy the synchronized water and music program where water dances to familiar tunes complete with sound and lighting effects.
The Natural Wonders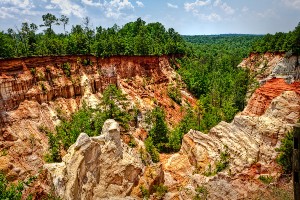 Known as Georgia's "Little Grand Canyon", Providence Canyon is located in Stewart County in southwest Georgia, U.S., approximately 3 hours from Atlanta. Massive gullies as deep as 150 feet were caused simply by poor farming practices during the 1800s. The canyon soil's pink, orange, red and purple hues make a beautiful natural painting at this quiet park.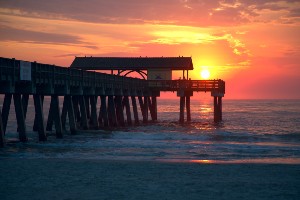 As a Georgia barrier island, Tybee Island is home to wide, clean beaches with warm and gentle waves. The island boasts five miles of public beaches perfect for sunbathing, people-watching, surfing, and walking in the sand. The Tybee Lighthouse is one of the nation's oldest lighthouses, and was built in 1736 with a spectacular view from the top. Tybee Island's south-end pier and pavilion provide the perfect venue for a wonderful view.
Art Museums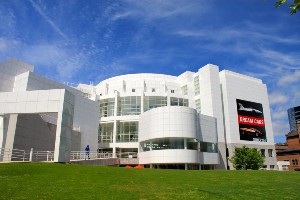 Located in the heart of Atlanta, Georgia, the High Museum of Art connects with audiences from across the Southeast and around the world through its distinguished collection. Housed within facilities designed by Pritzker Prize-winning architects Richard Meier and Renzo Piano, the High Museum features a collection of more than 17,000 works of art, including an extensive anthology of 19th-and 20th-century American fine and decorative arts.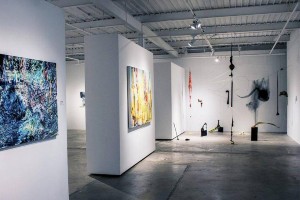 The Museum of Contemporary Art of Georgia (MOCA GA) collects and archives significant, contemporary works by the artists of the state of Georgia. MOCA GA is home to a permanent collection of more than 1,300 works of art which continues to grow in depth and breadth by 50-100 pieces per year. MOCA GA is central to the arts in Georgia - investing in the community by preserving the legacy of the past, present, and future of Georgia art.
---
Calendar ■ Authors ■ Programme ■ Travel Info ■ Maps ■ Sponsors ■ PhysioNet Challenge ■ FAQ ■ Contacts